2nd August 2023
This instalment of our Healthcare Now series examines the impact that cultural, social and health factors are having on our health, from both a physical and mental health perspective, and how this challenges our ability to take a more proactive approach to healthcare.
As we are still navigating the post-pandemic 'new normal', and though the World Health Organization has declared that Covid-19 is no longer a global health emergency, new threats such as avian (bird) flu and enterovirus re-emerge. The conflict in Ukraine, rising inflation, and strikes from public sector workers (including those across a spectrum of health services) are just some of the issues we are dealing with post-pandemic. These are certainly unprecedented times, and it can be difficult to envisage an end to this troubling period. All of this, and more, is taking a toll on our health and wellbeing.
In 2022 we joined our sister company, Bray Leino, to commission a nationwide healthcare study of over 1,000 respondents across both consumer and core patient groups – comprising those in primary care with an ongoing medical condition and those with a rare disease or unmet medical need. This exclusive quantitative and qualitative research study – Healthcare Now – unlocks invaluable insights which can guide us in understanding people's attitudes and behaviours around healthcare and wellbeing, and which will help inform our approach to healthcare marketing.
Prioritising Health and Wellbeing
As discussed in the second instalment of this series, 'Humble Health Ambitions' (found here [hyperlink to 2nd article]), we know that generally people claim to prioritise their health and wellbeing, with 1 in 3 people saying it's a top priority.
Taking a more proactive role in health is triggered by different reasons across respondent groups:
Consumers are much more proactive in exercising, eating healthier, and sleeping well than the other two groups. They are less likely to resort to taking medication for minor ailments and going for check-ups compared with the two patient groups.
Those with a rare disease or unmet medical need are less interested in feeling calm and relaxed but express more of a desire to prevent the onset of medical conditions. They are also more likely to research their health (including family history) and search for additional information about their health.
Those in primary care with an ongoing medical condition have more of a desire to feel calm and relaxed about their health, compared with the rare disease/unmet need and Consumer groups.
 All three groups want to feel fit and strong, for as long as they can. However, the single biggest challenge to prioritising health and wellbeing is daily life itself. Our survey revealed a large proportion (43%) of people feel they can only take a proactive role in their health and wellbeing when "life allows them to".
The lasting legacy of Covid-19
Throughout the Healthcare Now series, we've tried not to put too much focus on the impact of Covid-19, with so much already reported and research ongoing. However, the legacy of Covid-19 is still having a significant impact on how we manage our health; not just physically, but mentally and emotionally too.
For some, Covid-19 became a catalyst for lasting change with regards to physical health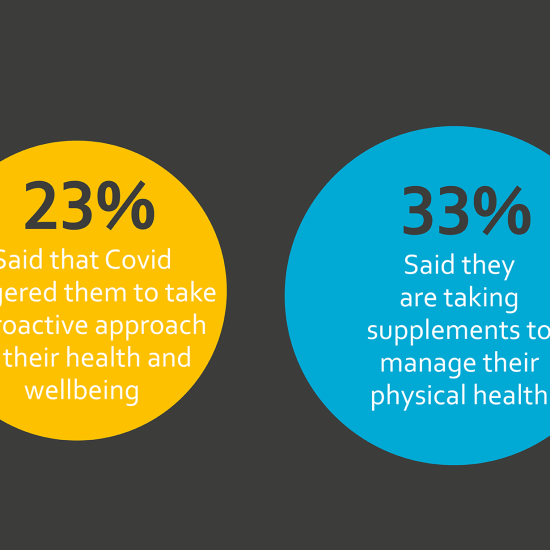 Physical exercise has become even more essential to people's lives, with lockdowns and home-working encouraging people to proactively incorporate physical exercise or fresh air into their routine. This behaviour has continued beyond the pandemic, with 57% of people 'regularly' engaging in some form of physical activity to look after their mental health and wellbeing.
At the height of the pandemic, fear of catching Covid prompted people to take action by assessing their own immune system and taking supplements to strengthen it.
The NHS crisis is causing a drive for self-sufficiency in the healthcare space
We're seeing the impact that an increasingly overwhelmed NHS is having on our health, in terms of both attitude and behaviour. With people not wanting to be a burden on the NHS, many are now self-diagnosing and treating at home rather than going to their GP. Respondents in our Healthcare Now survey illustrated this trend:
This attitude is even more prevalent amongst people 55 years of age and above, with the older generation being more likely take responsibility for their conditions – some due to mistrust/lack of faith in the NHS; others don't want to be a burden. With the lack of hospital beds, delays to non-urgent surgeries, lengthy ambulance waiting times and strikes by healthcare workers flagged daily in the news, this trend is likely to continue.
The rising cost of health is prompting a shift in mentality
The Healthcare Now report shows that people are concerned about maintaining a healthy lifestyle in the face of rising costs. The important thing to note here is that we're moving away from language around 'health' and 'wellbeing' and towards 'healthy' and 'lifestyle'. This alludes to a recognition that the biggest impact of the rising cost of living will be to day-to-day life, where we'll see the focus switching from thriving to trying to get by.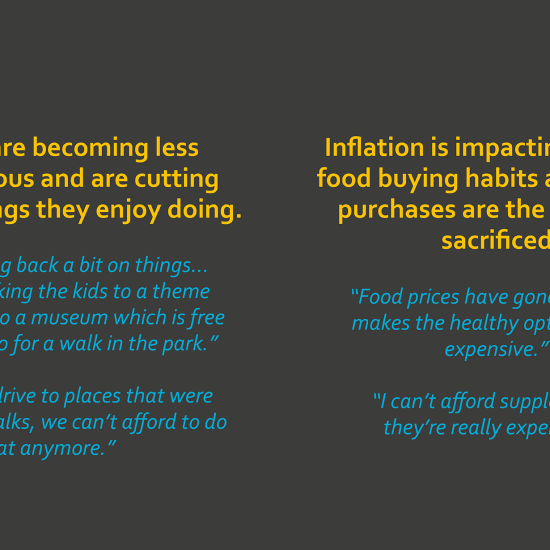 The cost-of-living crisis is clearly having both a short and long-term impact on maintaining a healthy lifestyle. There is potential impact also on mental health, as more enjoyment and 'feel good' is compromised or sacrificed altogether, replaced with stress and struggle. As a result of this, brands and businesses operating in this space need to ensure that communications are sensitive, sympathetic and understanding of the difficulties people are facing, offering information, support and guidance (where relevant) during these times.
Despite the challenges, people are taking control
For a host of reasons, people are clearly taking a more proactive role in their health and wellbeing, becoming increasingly independent from the traditional 'established' sources of 'authority' in healthcare. With these insights from Healthcare Now,  Solaris Health has already taken these data into consideration and begun taking steps to create engaging medical communications aimed at people from all three groups mentioned. For further information about how we are tailoring our work with these insights, or more about Healthcare Now, contact hello@solarishealth.com